BRACKER PUMP & WELL SERVICE
Excavating: New water laterals and repairs.
Serves Racine, Kenosha, and Milwaukee Wisconsin counties
24 HOUR EMERGENCY WELL & PUMP;Sales,Service,and Repair EVERY DAY!
PUMPS,TANKS,PARTS,and REPAIR EQUIPMENT WITH US FOR ALL MAKES.
*Emergency Excavating leaks-*Dedicated to our Futures Pure Water!

Racine:(262)886-6584 and Kenosha:(262)652-5600
LICENSED Serving L.L. May's customers as our own with:His logs! INSURED
Authorized warranty, service, sales, inspections and repair call...

Milwaukee: (414)762-3590 and Racine:(262)633-5323
---
Main Location at:5736 Middle rd in (Caledonia)Racine, Wisconsin 53402(APPOINTMENTS ONLY)
Only 3 miles from Milwaukee's Oak Creek, Racine's Franksville, 14 miles from Union Grove and Kenosha's Somers.

Mouse over and/or click on links above/below for more information

"Bracker Pump and Well Service / bracker.com" is your complete residential, commercial, industrial, municipal, farm 'Pump and Well' service contractor. We offer a variety of services which include 24 Hour Emergency Service on water well pumps, sump pumps, well pressure tanks, well chlorination, leak repair, lateral leak repair, and irrigation pumps.
Also we specialize in: Excavating, well rehabilitation, water testing and sampling, water system design, real estate well inspections, well abandonment, well system upgrade, water lateral installation, and well code repair. And featuring water laterals for municipal(city water) systems and repair. Call for all your water well needs!
"Bracker Pump & Well Service" is licensed and insured to proudly serve you, "our neighbors", throughtout southeastern Wisconsin, in communities such as: Racine- Mount Pleasant, Caledonia, Sturtevant, Franksville, Burlington, Waterford, Union Grove. Kenosha- Pleasant Prairie, Somers, Wind Lake, Bristol, Twin Lakes, Paddock Lake, Silver Lake, Lyons. And Milwaukee and Waukesha including East Troy, Eagle, New Berlin, Muskego, Big Bend, Hales Corners, Franklin, Greendale, Oak Creek, and South Milwaukee.
Serving Wisconsin's Counties of:- Racine-Kenosha-Milwaukee-Southeastern Waukesha. Family located in Racine and Kenosha counties since 1844!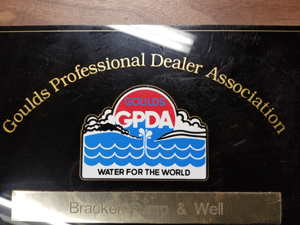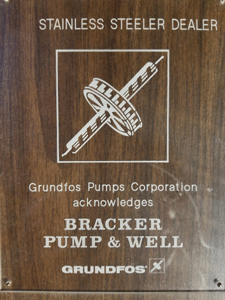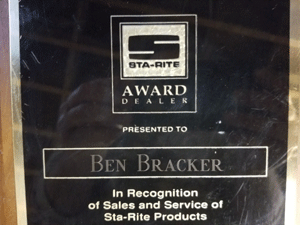 "WE can provide the pump you need and hope to do it at a cost you can afford." OUR first choices are tried and true and of the oldest submersible pump and motor Manufactures. Almost ALL Pump manufactures used Franklin motors.'Franklin Electric Company is the world's largest manufacturer of submersible motors...Their principal application for submersible electric motors is for water well pumping systems...' We provide in stock; unsurpassed-foremost world-class pump companies as Goulds, Sta-rite, Redjacket, and Grundfos. We even helped pioneer Grundfos's little 3" jet sub pumps. Lately "Goulds" has provided the industry with added valve by adding 2 impellers in the pumps 1/2HP to 1-1/2HP models. "We are happy to provide same", as this makes them like the pumps they made over 20 years ago.
The bottom line is; "We do our best to find and stock the right pump for your needs. But when needed we procure one just for your needs"!

---
Hosted by: "Bracker copyright 1994-2016"
"Engineered for business web hosting!"
---